Super Fast 2.5 Gigabit Broadband Available and in Demand
With a house full of teens, a new grandbaby and a busy farm operation, Spring Tribbett and her husband David chose the fastest broadband service available — 2.5-gigabits — when Choptank Fiber came down their long gravel lane in May. 
"I feel like we're in the 21st Century now," explained Spring.  "I don't have to walk outside and point my phone toward a cell tower to read a text or get an email." The Tribbetts participate in a family farm operation in Caroline County that includes poultry, grain, composting and vegetable crop production.  On the home farm, David grows one of the largest commercial crops of miscanthus in the region. The ornamental grasses are harvested annually and chopped for bedding in poultry houses.
 The self-described "suburban mom" works in the farm office by day and then cheers for her kids at local sporting events by night. She worried that Taylor, age 17, Calleigh, 16, and Camdyn, 12, were missing out on important learning opportunities during the year long COVID shut down. "The girls would call and say 'the hotspot just dropped us again and we can't get into class," said Spring.  "I'd have to bring them to the farm office, or they'd have to go sit in the school parking lot to get on the Wi-Fi some days." 
When Choptank Fiber began to offer service to Cooperative members on the Shore, Spring jumped at the chance to get connected. "I asked who can we call and how can we get on the list?" she said. "When we were able to sign up I considered the number of devices we might want to connect — phones, TVs, computers — and decided to go with the fastest speed available." 
"I don't know many people who can get broadband at that speed," Spring observed. "We were not taking any chances, we wanted fast internet, so we went for the 2.5-gigabit package, and we have no regrets. The service is excellent."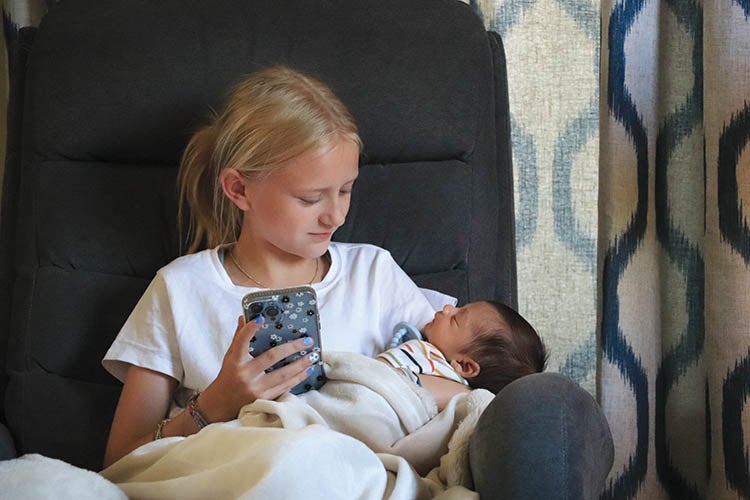 When we sat down with the family, which also included their daughter Ty, and 3-week-old Haven, who live nearby, everyone was texting and talking and excited to tell us how much better connected life is at home. "When I got my new TV at Christmas, I could only watch over-the-air live TV," explained Camdyn.  "Our old internet was so slow and when we came home after being in a place with good internet, it took forever for our devices to connect again." 
The Tribbetts' previous internet option was a wireless signal accessed from an antenna on a nearby barn.  While they appreciated having some service, they revel in the gigafast broadband experience with Choptank Fiber.  "We watch Netflix all the time now and we can get our emails immediately," said Spring.  "And the girls are able to do homework and participate in classes and other online educational activities." When Choptank Electric Co-op's Board of Directors made the decision to deploy broadband for members, they considered families like the Tribbetts who live down long farm lanes.  "We know that rural families have to do a lot more from home than some of their city counterparts," said Amy Brandt, Caroline County Director on the Choptank Board. "They want to run their farm businesses, educate their kids, place grocery orders, use telehealth and so much more."   
Choptank Fiber Update:
Choptank Fiber was awarded another $23 million in grant funding from the Office of Statewide Broadband in May.  The grant, applied for with local government partners in Caroline, Cecil and Somerset Counties, will allow us to make broadband available to another 3,000 members over the next 18 months. "We appreciate the confidence Governor Larry Hogan and local leaders have placed in Choptank Fiber," said Mike Malandro, President & CEO of Choptank Electric Cooperative.   
"We are getting the job done.  We are doing what we promised.  And we will keep working until all unserved members have access to modern-day fast, reliable broadband." Malandro pledged. "Grant funds allow us to get there faster and allow local government partners to bridge the broadband divide in their communities – it's a win-win."
Choptank Fiber offers a range of residential broadband packages to help meet member needs.  Members can pre-register for broadband and learn more about packages ranging from 100-Mbps to 2.5-Gbps speeds at www.choptankfiber.com .